Gastronomy, getaways, markets
Activities close to La Grand'Terre family campsite
Our campsite in Ruoms is the ideal starting point for discovering the wonders the region has to offer. Gastronomy with famous wines, various sporting activities, traditional markets: your stay in the Ardèche could well be unforgettable!
Enhance your trip to the Ardèche
by discovering its gastronomy and wines
The Ardèche region is famous throughout France for its wines, cheeses, charcuterie and chestnuts. Food lovers will certainly appreciate the variety of products from the Ardèche region.
The campsite restaurant offers simple cuisine prepared with regional products.

In a friendly atmosphere, the bar-restaurant of our 4-star campsite offers the best dishes of our region, as well as all kinds of salads, sandwiches and pizzas. To offer you an authentic taste of the Ardèche, our chef cooks mainly with local produce.
Guided tour of an authentic winery and wine tasting with Néovinum

A stay in Ruoms is also a great opportunity to take part in a guided tour of the Néovinum wine cellar at Aven d'Orgnac, more than 20 meters underground. At the end of the tour, you'll be treated to an introduction to oenology, followed by a tasting of three wines.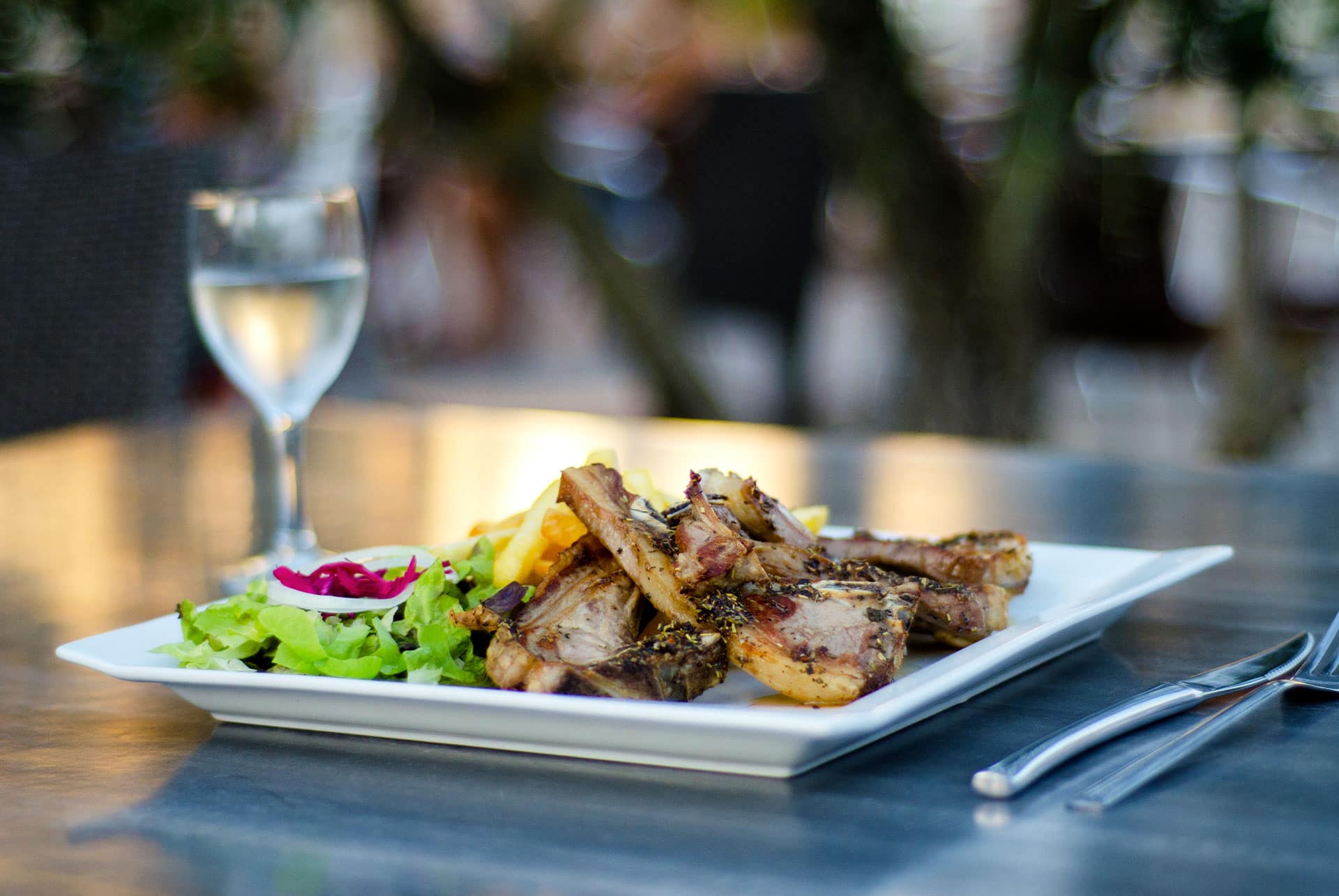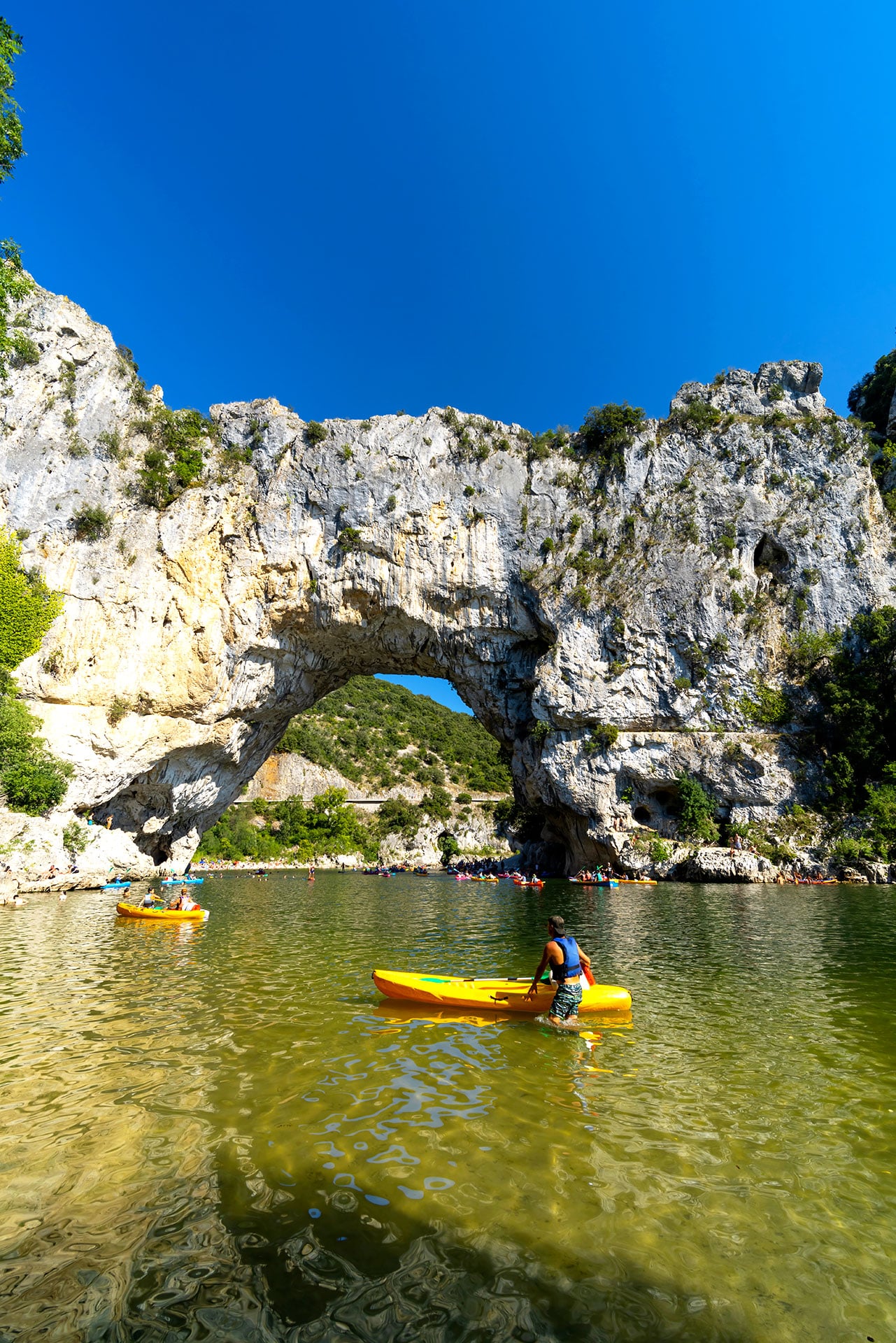 At the Grand'Terre campsite, you'll have access to
A wide range of outdoor activities
In the mountains around Ruoms, our service provider GEO offers outdoor activities for the whole family! Discover our beautiful region in an original and sporty way, with via ferrata, canyoning and caving courses that will leave you with wonderful memories of the Ardèche. To sign up for these outings, simply reserve your places at the campsite reception desk.
Canyoning
The Ardèche is home to a thousand rivers, the most famous of which bears its name!… Now venture closer to its source and see what happens!!! Crystal-clear pools, natural slides, deep gorges… that's canyoning… you'll be asking for more !!!! An activity for the whole family, with children aged 5 and over.
Via Ferrata
Up close to the Ardèche mountains….Discover verticality, unique viewpoints and the originality of a sporting route…… An activity somewhere between climbing and hiking.
Caving in the Ardèche
Forget your fears and phobias, caving and the Ardèche have a long history! Our caves are precious and ready to reveal all their secrets to you… So, be daring!!!
For thrill-seekers, you can also take a first flight in a microlight or go paragliding in the heart of the Ardèche countryside.
All outdoor activities are supervised by state-certified instructors.
Discover the sports activities organized by our partners
The campsite and surrounding area are full of outdoor activities. Our partner Adventure Camp will take you on an incredible tree climbing adventure.
Just ten minutes from our campsite, Ardèche Loisirs Mécaniques organizes quad, buggy, motorcycle, karting and paintball activities.
Our partner Ardèche Vélo makes it possible to rent a bike in the Ardèche to explore the region's most beautiful paths, or to take a mountain bike tour supervised by instructors.
Last but not least, to please the whole family, La Loubière offers horseback rides through the magnificent Ardèche countryside.
Swimming, fishing and stand-up paddling from our private beach on the banks of the Ardèche
Located on the banks of the Ardèche river, our family campsite offers great white-water activities from the private beach. Swimming, fishing and even stand-up paddling are fully authorized and supervised by our team.
And don't forget the canoe descent of the Gorges de l'Ardèche
The canoe descent of the Gorges de l'Ardèche, organized by Base Nautique du Pont d'Arc, consists of a 15-kilometer trip along the river. The excursion will take you to a dream landscape, emblematic of our region.
Discover the typical markets of southern Ardèche
around the Grand'Terre campsite
It would be a shame to leave the Ardèche before visiting one of the region's traditional markets. Throughout the week, and especially in summer, the villages of character organize their own markets, selling all kinds of local produce: cheeses, cured meats, chestnuts, sweets and many other regional specialties, often organically grown.
The Ruoms market is held every Friday morning. To find out more about market days in Sud Ardèche, download this calendar.